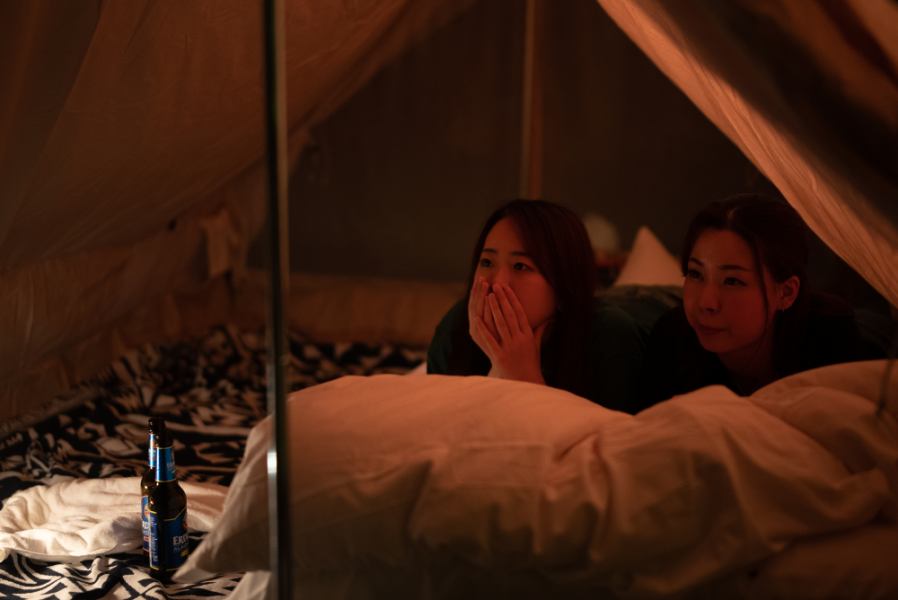 Why don't you enjoy glamping while looking at Lake Togo
"Glamping" is a coined word that combines glamorous and camping.
The tent will be prepared at this facility, so even beginners can rest assured!
You don't have to set up your own tent and you can easily enjoy camping!

Feel the natural breeze and look at the Hoshizora
Lake Togo, the location with a great sense of liberation spreads.
【Limited to 2 Groups★glamping】Empty-handed de camp experience to enjoy by the lake! Supper includes two meals of our popular Furusato kaiseki meal!

Dinner is our most popular No.1★We used plenty of local ingredients from Tottori prefecture
We offer kaiseki cuisine that is particular about local production for local consumption.
Hot springs are also available!

Feel free to enjoy the outdoor experience with your family, close friends, and couples.

■Dinner■
·Meal start time:From 18:00 to 19:00

<Example menu>
【aperitif】Togo sake
【Ahead】Sakura Domyoji steamed(Sakura lily root, wasabi)
【Appetizer】Five kinds of sheng
【Juri】Four kinds of sheng(Mahachi, sea bream, sazae, Eisu)
【Simmered dishes】Oyama chicken Chinese cabbage roll boiled in white cheese
【Shii Zakana】Tottori Prefecture's Wagyu (beef) steak 60g
【Grilled Dish】Grilled Spanish mackerel tree buds
【Fried food】Seasonal tempura
【rice】Wild plants and bamboo shoot rice
【 juice 】Seasonal (Tottori prefecture) miso soup
【Pickled Vegetables】Two kinds of sheng
【Water】Strawberries and dessert
※Cooking content may change depending on the season.

【Price information】1 Night/ 2 Meals
●2 people use 29,150 yen per person(tax included)
●3 people use 25,850 yen per person(tax included)
●For 4 people 23,375 yen per person(tax included)
※Hot spring tax 150 yen separately hangs.

■For details, please contact the staff
【Limited to 2 Groups★glamping】Empty-handed de camp experience to enjoy by the lake! Supper with BBQ2 meal!

For dinner, you can enjoy BBQ at the barbecue house.
Tottori Prefecture's Wagyu (beef), pork roses and chicken thighs from Tottori prefecture,
Sausages, vegetables, grilled rice balls, yakisoba, etc.!
Super size BBQ menu!
Feel free to enjoy the outdoor experience with your family, close friends, and couples.

·Meal start time:From 17:30 to 19:00
■Dinner(BBQ house)■
We will prepare it at the BBQ house.
·Tottori Prefecture's Wagyu (beef) sirloin
·Tottori Prefecture's Wagyu (beef) shoulder loin
·Tottori Prefecture's Wagyu (beef) lean
·Addictive Harami(Foreign production)
·Tottori pork rose
·Chicken thigh meat from Tottori prefecture
※Total meat about 260g
Other
·2 chicken sausages
·Grilled vegetables(Onion,carrot,cabbage,pumpkin,Potatoes)
·Grilled rice balls
·Fried noodles
※Menu contents may differ slightly.

【Price information】1 Night/ 2 Meals
●2 people use 26,950 yen per person(tax included)
●23,650 yen per person for 3 people(tax included)
●For 4 people 21,175 yen per person(tax included)
※Hot spring tax 150 yen separately hangs.

■For details, please contact the staff

About glamping accommodation

■Cautions
·We are not responsible for any injuries, accidents, thefts, losses, etc. that occur at this facility.
·If damage or damage to the equipment is found to us or a third party due to the intention or negligence of the customer, we may claim the price (compensation for damages).
·The staff may warn you if there is any act that goes against morals.
·After 22:00, please think about the people around you and take action.
·Only hand-held fireworks are allowed, but please do so at the designated place.(Until 22:00)
·Please smoke in the designated area.(1F in this facility)
·Pets are not allowed.

■Request from the facility
·For dinner and breakfast, you will be asked to eat at the designated place.
·For bathing (natural hot springs), please use the large communal bath in the main building.(7:00 to 24:00)
·If you use shoes in the glamping tent, you will be charged a cleaning fee.
·Please follow the etiquette and cooperate so that all users can enjoy using it.
·Please understand that it may be installed in the physical education facility depending on the weather.


■Facilities
·Glamping tent(Installation / removal is us)
·Table chair(Out of tent set)
·1 lantern (LED)
·Amenities(Combs, razors, toothbrushes, etc.)
·towel(Bath towel face towel)
·Cooler box(Sky) ※Ice will be provided.
·Cold water pot
·Air bed
·Trash can / tissue